Dahlings, how are you all?
Right that's enough about you, back to me.
Went to a Daphne4Boyz Mother's Power Lunch yesterday.
Discussion of vital issues including the horror of rugby (Swollen Parts and How to Deal With Them), what happens when you pack your 10 year old's boxer pants by mistake in husband's case for business trip (
Swollen Parts and How to Deal With Them
) (husband uncomplainingly goes commando) and Most Important of All:
Do we need to Raise our Game in terms of Nightwear in view of our Advancing Years?
To be honest, my heart sank. I thought bed was one place were I could let it all go and happily crawl into my tatty pjs and washed out sweatshirts. And as Mr B is usually at work till all hours "trying to get something out" (always thought he was referring to a new draft of legislation but now wonder if I should check he has right underpants on) he never actually sees me in daylight anyway, let alone notice what night garb I am wearing.
On the other hand, only the day before I had been checking out the Marks and Spencer nightwear as I am in the market for some news pjs, having reluctantly parted company with one pair which had mysteriously developed holes after only 15 years..so this topic was of great interest.
Instead of comfy Mummy pjs, should I get myself an elegant La Perla type night dress with matching gown?
La Perla; "Your dinner is in the dog Mr B"
But feel I do not have the lifestyle to go with it - when would I actually put on the gown? These days I am either comatose or up wrangling Boys 1 and 2, there is no in between lounging around dipping strawberries in champagne ...And I can't have any drapey silk getting underfoot as I chase the boys around the house (Elf and Safety issues). I suppose Cruella de Ville managed ok, but then she had help.
Also if Mr B did come home early enough to catch sight of me decked up like this, he would probably think he was in the wrong house and go next door looking for his supper...
La Perla; "Darling be a dear and take the bins out would you?"...(hey, I am starting to get the point of this fancy sleepwear idea, just need to hire a body double and some antique furniture)
Vita e Passioni d'Emira silk-georgette and lace robe

Rosamosario £520 from net a porter
Rosamosario Venetian Love lace-trimmed silk-crepe kimono
Us Daphne4Boyz Mothers also discussed the fashion for All in Ones- I mentioned how unsettled I was to see these on offer at M&S for Grown Ups.
From M&S on-line
Apparently lots of young girls wear these at boarding school to keep warm while doing their prep. Best left to the young I feel - also the likelihood of my toppling over and knocking myself out when trying to extricate myself from said garment in middle of the night to have a wee is too high....do not want to be found unconscious with babygro round my ankles.... (What's that Mr B? Wouldn't be the first time? Ha ha Mr B, ha ha).
The only good look I've seen involving a onesie recently (apart from babies who of course look adorable in them) is this: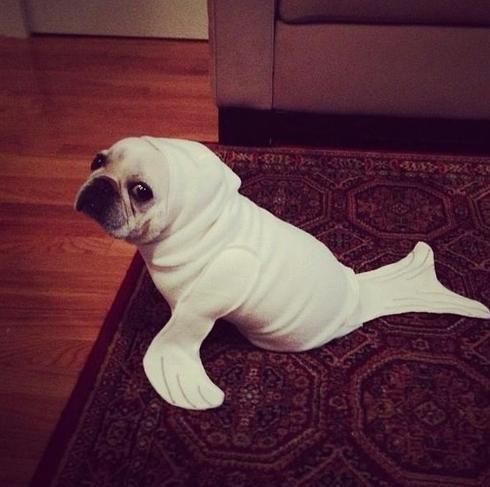 found this on pinterest, not sure who took the pic in first place, happy to attribute if anyone knows
Who knew that the whole issue of night clothes is so fraught?
And why are those coat thingies called negligees? When they are so obviously the exact opposite of Letting Oneself Go? Answers please ready for next Daphnes Mothers Power Lunch. No pressure. A full Powerpoint presentation and Excel spreadsheet of different sleepwear option price points is also required.